By getting a chemical peel during ❄️ cooler, winter months, your skin is much more protected during the recovery/healing stages. Because it is less sunny in the winter, hyperpigmentation issues are better resolved by a chemical peel at this time. The vitamins and acids in the peel work to shrink pores, correct fine lines and wrinkles, stimulate collagen and elastin production within the skin, and improve acne and hyperpigmentation.
Having a peel in the winter will prepare skin for the spring and summer and have you looking your best with your skin luminous and glowing ✨
During January and February, receive 20% off your PCA Chemical Peel at Haven Salon + Spa! The entire peel takes only about 30 minutes!
All peels come with a 7-10 day aftercare kit to ensure you get the most out of your peel!
Use promo code: 20PEEL when booking online.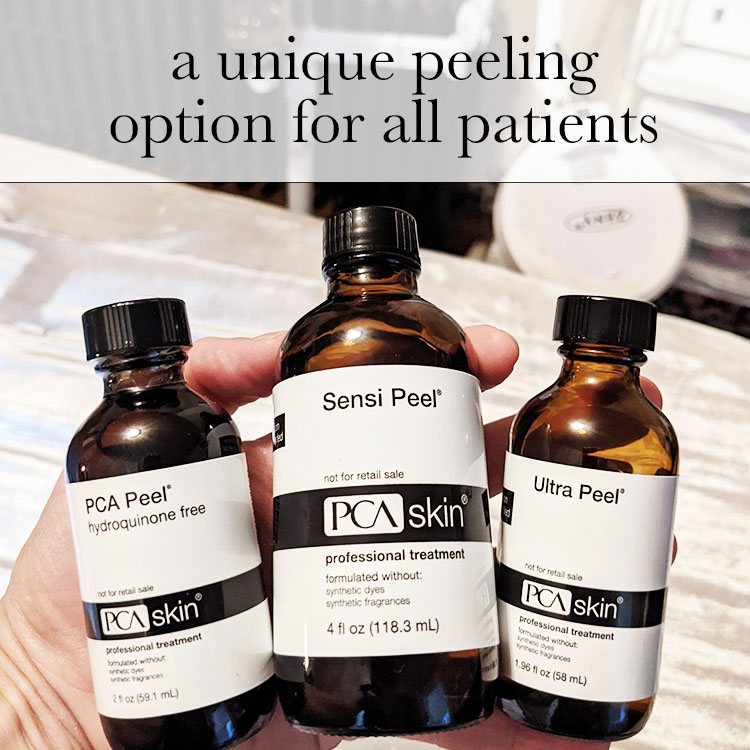 There are countless benefits that PCA chemical peels can provide you as well as your skin. They can help:
Increase the skin's cell turnover rate
Reduce the appearance of fine lines and wrinkles
Even skin tone.
Eliminate hyperpigmentation.
Brighten dull skin
Reduce acne as well as acne scars.
Treat as well as prevent breakouts.
Diminish dark spots.
Shrink pore size.
Make your skin soft and smooth.
What happens during a chemical peel?
During your consultation, your Certified Haven Esthetician will help you determine the most beneficial peel to improve surface texture and brighten your skin while helping promote an even skin tone. Instantly get more beautiful, youthful skin while helping treat acne and acne scars, loss of skin elasticity, rosacea, deep-set wrinkles, uneven skin tone, fine lines and hyperpigmentation. The downtime following a PCA chemical peel is minimal, with most patients resuming their daily routines right after the treatment. PCA SKIN Peels have been formulated as a unique peeling option for all patients, including those with highly sensitive skin.
What is dermaplaning and red-light therapy?
Dermaplaning gently removes dry skin along with fine hairs from the skin's surface, to reveal a smoother and brighter complexion. It's a perfect add-on to any chemical peel or facial.
Red-Light Therapy: Your skin has the ability to absorb infrared light and use it as a source of energy to stimulate cellular regeneration. This technique uses red low-level wavelengths of light the penetrate your skin to help treat skin issues, such as wrinkles, scars, and persistent wounds, among other conditions.