Meet Erica, May's Employee of the Month, Plus, get 20% off her selected products all month long!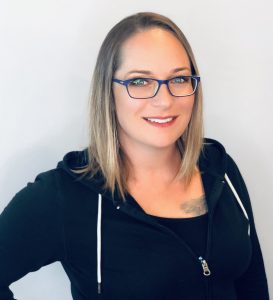 Erica is the Massage Therapist in Muskego as well as a Salon Lead.
How long have you been a massage therapist?

I graduated massage school in August of 2016 and began my career as a licensed massage therapist at Haven in October of 2016.

Why do you think you decided to become a massage therapist?

After years of working in an office, I began to feel like I was growing out of my skin. I realized that I needed to do something that made me feel accomplished at the end of the day. Becoming a massage therapist was one of the biggest leaps of faith I have ever taken, with that came a greater sense of purpose and connection.

How long have you been with Haven?

What's the best thing about working at Haven?

I truly love all of the women that I get to work with every day. It's a fun work environment and we are all supportive of each other, in and out of work. My ultimate favorite thing about working at Haven is the flexibility. Home life/work balance is more important to me than anything. I am fortunate enough to almost never have to miss out on any of my boys' sporting events and that means the world to me!

What is your favorite massage to give?

I would have to say I prefer more on the therapeutic side. Results driven, and I suppose that also relates to a stress relieving massages. It matters most to me that my guest never leaves feeling like they've wasted their time or money.

Do you make time to get a massage every now and again?

I cannot tell a lie, I do not schedule massages for myself as often as I should (monthly at minimum), using our busy schedule as the reason. I promised myself to begin practicing what I preach and making myself a priority. I am sure to do other at home/self care things that I often recommend to my massage guests.

This month is Mother's Day, what are you hoping your kids do for you?

I'm happy with the little things such as hanging their wet towels or putting their dirty clothes down the chute. I think the perfect Mothers Day would be to just spend the day with them. We have a lot of belly laughs together and that makes me happiest!

What are the 3 products that you love?

Right now, my favorite items at work are Aveda's Botanical Repair Strengthening Leave-in Treatment, Aveda's Botanical Kinetics Radiant Skin Refiner and Elevated Hemp Solutions' Happy Place Hemp Full Spectrum CBD Gummies. For the ENTIRE month of May, you can get these 3 products for 20% off when you shop at either of our locations. (Not valid when you shop through Aveda.com).