Clean Water: Clear Mission
Happy Earth Month!  At Haven Salon + Spa, we're proud to align with Aveda's mission to care for the world we live in, from the products we use to the ways we give back to society.
Aveda has partnered with charity: water to fund clean water projects in Nepal, India, Madagascar and Ethiopia. To read more about this amazing cause, please visit aveda.com/cleanwater.
If you see your stylist wearing jeans or the color blue, it's because they are helping do their part! They will donate $20 to charity: water every time they wear jeans to work this month and $5 to wear blue. There are so many ways that you can do your part too!
Buy: Stop in at either salon to purchase 3 samples for $3 or 6 samples for $5. 100% of the proceeds go to charity: water. Show your home planet some love this Earth Month by shopping 100% vegan, ethically sourced, cruelty-free Aveda products with us!
Donate: Turn Aveda Plus Reward points into donations to charity: water.
Give: Donate directly at charitywater.org/aveda
Sign up: Download the MoveSpring app and Enter the Aveda Earth Month RunWalk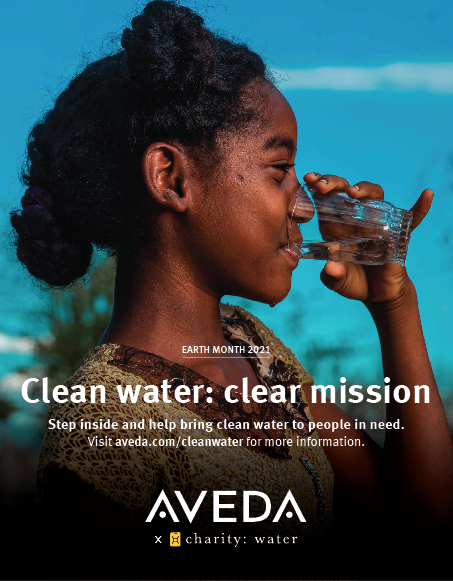 Still want more? Here's a few ways to help make the most out of your Earth Month!
Choose tap water over bottled water.
Take a litter-free lunch to school or work.
Get outside! Enjoy nature!
Pay closer attention on when you leave the lights or television on.
Try to bike to work or an event instead of taking your car.
Take shorter showers.
Turn your heat down a few degrees when you go to bed. Grab some fuzzy socks or an extra blanket!
Don't forget your reusable bags.
Build a bat box, butterfly or bee home or even create a native flower garden.
Walk through your neighborhood and pick up trash.
Thanks for helping us make this Earth Month great!
See you at the salon!
The Haven Salon + Spa Team