Meet Bri, October's Employee of the Month.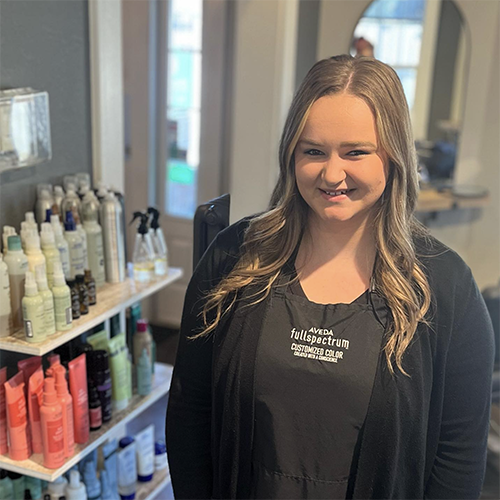 More about Bri
Q: What made you want to be a cosmetologist?
A: Growing up with 2 younger sisters, I always enjoyed styling their hair when they'd let me. I found a passion in making others feel beautiful.
Q: Favorite part about cutting hair at Haven Salon + Spa?
A: Forming relationships with my clients and being creative with each hair cut I do.
Q: Favorite sports team and why?
A: I enjoy watching all Wisconsin sports, Brewers, Bucks, Badgers, and the Packers. But if I had to pick a favorite, I'd pick the Packers. There's something about football season in Wisconsin. Forever a cheesehead.
Q: What type of music do you listen to?
A: Mostly Country
Q: What hobbies do you enjoy in your free time?
A: I enjoy spending time with my boyfriend, family, dog and cat. You will find us camping a lot or Up North in the summers. I enjoy traveling and exploring new places when I get the chance to.
Q: Any advice to aspiring stylists?
A: My advice to aspiring stylists would be to never stop learning. No matter how long a stylist has been in the industry, there's always something new to learn. There are new trends and different techniques that allow you to continue to be creative.
Q: What do you think is the most important at-home haircare tip?
A: ALWAYS use a heat protector before ANY heat styling. This will save your hair over time and help keep your hair feeling healthy.
Q: What's your 3 favorite Aveda product to use and why?
A: Nutriplenish Multi Use Hair Oil helps hydrate the hair and provides great shine, also is a great finishing product to tame down frizz and flyaways.
Air Control Hairspray provides a light hold to any style without making the hair feel sticky or crunchy
Foot Relief smooths and soothes tired feet while providing amazing hydration for your feet.
Receive 25% off Bri's top Aveda picks all month long!
Schedule your next hair appointment with Bri to learn all about these amazing products!